This article provides easy-to-follow instructions for activating your new Bitdefender subscription. Bitdefender offers two options to choose from. You can either click on the activation link provided in the purchase email you receive after placing an online order or manually enter the activation code from the email or retail box. Automatic activation only happens in specific situations, which we will explain in more detail below.
Please use one of these activation methods:
One-click activation of a Bitdefender subscription
Manual activation of a Bitdefender subscription
Automatic activation of a Bitdefender subscription - for recurring customers *
Video tutorial
FAQ
When does my subscription start?
Your Bitdefender subscription starts as soon as you make the purchase. The countdown begins immediately after you buy the code from our online store at www.bitdefender.com, even if you haven't redeemed it in your Bitdefender Central account yet. So, the subscription starts on the day you place the order, not on the day you activate the code in Bitdefender Central.
How can I tell if my new subscription was correctly activated?
You can check your subscription status and the expiration date of any subscription activated so far in your Bitdefender Central account. Open the My Subscriptions panel to find out if your new Bitdefender subscription was successfully activated.
Do I need the activation code each time I install Bitdefender?
No. Bitdefender codes only need to be activated once and may only be activated in one Bitdefender Central account. Once the subscription is active, the activation code is no longer needed in the (re)installation process, as all installations are managed directly from your Bitdefender Central account.
I renewed my Bitdefender subscription, but the product expired
If you purchased a subscription and the new validity is not reflected in the installed product, just log out and log back in again to your Central account using the Switch Account button (see the image below for reference). That should refresh your Bitdefender account and allow you to use the renewed subscription.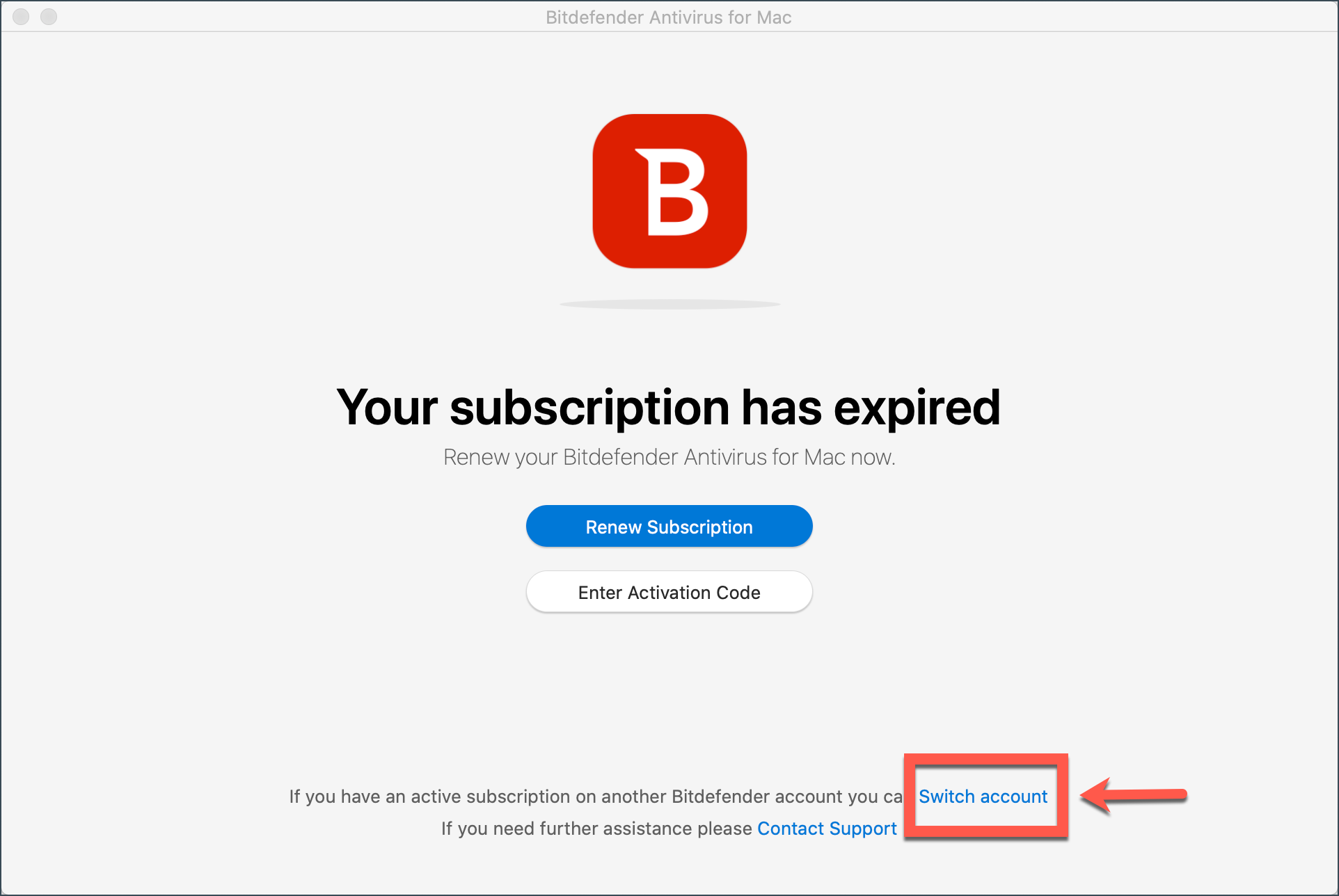 How do I install Bitdefender on my devices?
You don't need to reinstall Bitdefender on devices that are already protected.
If you've already activated the subscription and need help with the installation process on a new device, first log in to your Bitdefender Central account. Select the My Devices panel, then click + Install Bitdefender products on your devices and follow the on-screen steps to install Bitdefender.
If you are already logged in, simply click this link to automatically land on the Install Bitdefender products section.
Check out these articles for additional resources:
How to install Bitdefender on Windows  |  on Mac  |  on Android  |  on iOS
If I install Bitdefender on a virtual machine, will it use up one of the seats from my subscription?
Yes, if you install Bitdefender on a virtual machine, it will use up a seat from your subscription.