Get ready for the smart shopping street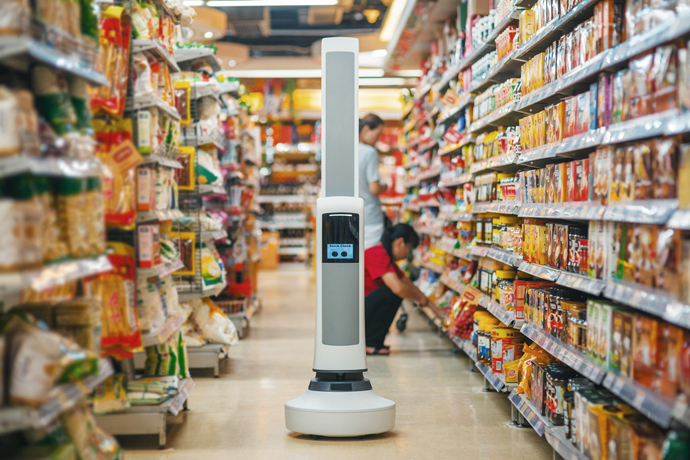 Next time you go into a supermarket, don't be surprised if you see a tall, handsome robot making the inventory in the sweets aisle.
We have entered the era of the smart home, the smart car and the smart city. How about the smart store? Chip maker Intel has announced a $100 million investment in a new IoT platform for retailers which could forever change the way you do your shopping.
We are talking physical stores here, not the online kind. Business Insider reports that Intel's Responsive Retail Platform (RRP), announced by CEO Brian Krzanich, will consist in a set of sensors, software kits and other devices aimed to help both the vendors and the consumers.
According to BI, Intel wants to help stores speed up inventory processing, get feedback on purchases and obtain intel (pun intended) on buyers. In other words, stores will be fitted with smart devices that will be able, among other things, to watch and analyze your moves. Sure, that's bound to be useful for merchants, but above all the system aims to personalize your shopping experience, says Intel.
Of course, in-store tracking is far from being a novel idea, but according to Intel RRP is much more than that. A press release from the company describes it as "a new horizontal platform … bringing together retail hardware, software, APIs and sensors in a standardized way."
To give you an idea of Intel's vision of your future shopping experience, here is a paragraph from Intel CEO Brian Krzanich's editorial introducing RRP on the company's website:
"Intel's Internet of Things (IoT) and cloud technologies touch every link of the retail supply chain. IoT sensors capture data that can be analyzed.  Data centers crunch the information and give it real-world usefulness. For example, our technologies can see what items are not in their correct location and the up-to-the-minute store inventory, including what's in the back room. They can even tell what items go in to changing rooms, but never make it to the cash register."
The platform includes smart devices such as Tally by Simbe Robotics, introduced by Intel as "the world's first robotic autonomous shelf auditing and analytics solution for retail." The robot gives store employees information about product stocks and even helps them find out whether or not a certain item is in the right place on the shelf and has the correct price tag. It's powered by an Intel processor and can look at the shelves with the help of several cameras that also use Intel technology.
As Business Insider notes, Intel is not the only company going in this direction. Qualcomm, another chip maker, has a similar IoT strategy that aims to help businesses sell their products using "platforms in the areas of smart bodies, smart home and smart cities."
Photo: Tally by Simbe Robotics (photo credit: Intel Corporation)
IoT
privacy
shopping