Connected home to overtake enterprise as biggest IoT revenue driver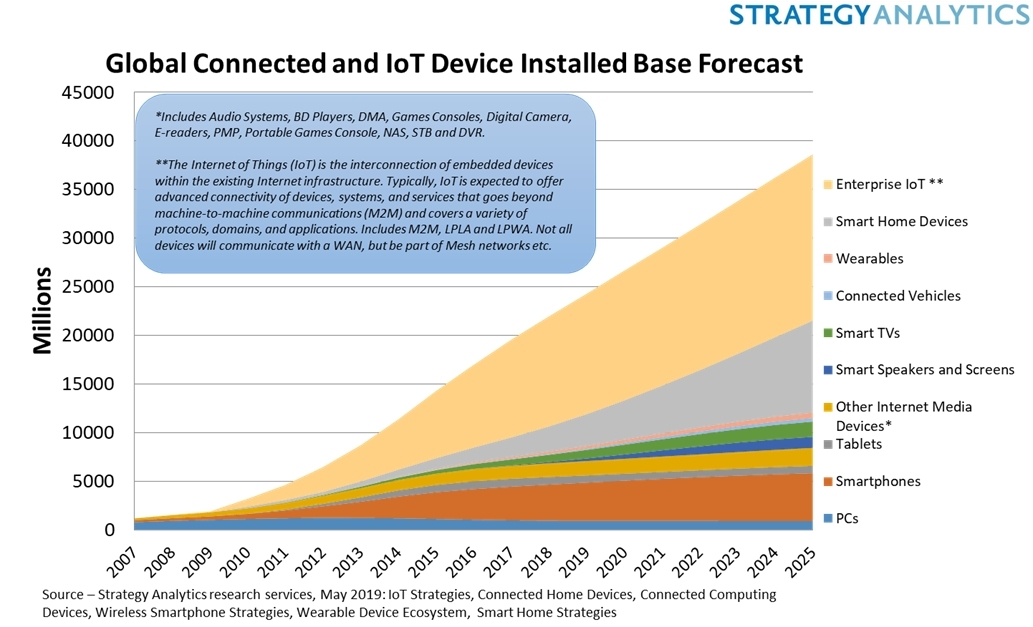 Enterprises have been the major driver of IoT growth in recent years, but new data indicates that the connected home will soon overtake them.
The number of internet-connected devices reached 22 billion worldwide at the end of 2018. According to Strategy Analytics, that number will climb to 38.6 billion in 2025 and 50 billion by 2030.
Accounting for more than half of the market, the enterprise remains the leading driver behind IoT's proliferation, followed closely by mobile and computing, analysts say.
However, they also say smart homes will become the biggest driver of IoT growth in the long run. From the company's press release:
"The report predicts, however, that Home will be the fastest growing segment over the coming years, driven by further rapid growth in smart home adoption, particularly in as-yet untapped regions."
Connected computing devices will see low growth or decline, the report says, while other segments, like media devices will continue to expand steadily. Wearables will also continue to grow, but volumes will remain modest relative to other segments.
Researchers caution market watchers and investors that IoT revenue opportunity remains uncertain, particularly for service providers. They also issue a cautionary note to companies seeking to deploy IoT solutions: "Give most consideration to which target segments, business activities and revenue models they should prioritize."
"With the global connected device installed base on track for nearly 40B by 2025, there is a huge opportunity for semiconductor display manufacturers, cameras, memory, battery and other enabling technology providers. AI will become pervasive in mobile, home, automotive and computing platforms. Optimizing the user experience across multiple devices, OS and user interfaces will be a key battleground," said David Kerr, Senior Vice President at Strategy Analytics.
Market Research analysts also foresee important implications for future network deployments, including the all-new 5G standard. The fifth-generation cellular network technology promises to give IoT deployments a substantial boost in the coming years, thanks to its high throughput.
5G
enterprise iot
home iot
IoT
iot security
smart city
smart home