Thousands Fall with Each Hour for Free Audi R8 Facebook Scam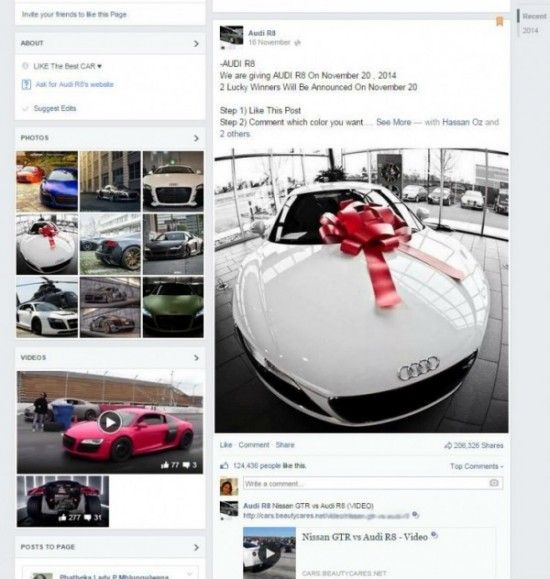 Over 200,000 Facebook users have fallen prey to a like-farming scam promising two free Audi R8 cars, and thousands join the victim list with each hour, according to antivirus software provider Bitdefender. The bait spreads on fraudulent web pages and Audi communities, and also targets car lovers with malicious videos picturing Audi R8 in a race against Nissan GT-R.
Bitdefender was already detecting the malware spreading within the videos as JS:Trojan.JS.Likejack.A. As the name suggests, the Trojan can grab likes without users` knowledge, making them accomplice in further cyber-crime activities.
At the time of analysis, the misleading Audi page gathered 179,551 likes and 211,736 shares. The numbers keep growing with thousands from one hour to another. Most users who enrolled in the free Audi R8 "giveaway" originate from the US, Denmark, the UK, Australia, Malaysia, Germany, and South Africa.
Though like-farming might look as one of the most harmless Ëœcyber-crime` activity, it has serious repercussions on the long run. Once they have accumulated high number of fans, like-farming Facebook pages launch other fraudulent activities such as malware and survey scams, this time to a much larger audience. The data base with unwary users can also sold on the black market, and used for more targeted attacks.
To increase the sense of urgency and convince users to spread the scam further as soon as possible, fraudsters placed November 20th as deadline for their fake competition.
"2 Lucky Winners Will Be Announced On November 20," the bait message reads. Scammers also explain the contest rules, tagging along several unwary users. Besides liking the free Audi R8 post, users competing for the German luxury car should also name the color they want, and share the message on their timelines.
Bitdefender has reported the malicious web page to Faceboook, and warns users to be wary of competitions that are not hosted on the official pages of companies.
Audi R8 was introduced by the German automaker in 2006, and still attracts a high number of fans. Other brands that have been used to promote Facebook scams include BMW and Harley Davidson.
A recent Bitdefender study on the top 5 baits spreading on Facebook in the last 2 years showed fake giveaways represent 16.51 per cent of the total number of scams flooding the social network.
All product and company names mentioned herein are for identification purposes only and are the property of, and may be trademarks of, their respective owners.
tags
---
Author
---
---
Right now
Top posts
FOLLOW US ON
SOCIAL MEDIA
---