As cybersecurity threats increase in complexity and frequency, organizations are challenged navigating through a wide selection of security solutions. Independent testing results can provide crucial information in their decision-making process, offering objective assessments of each solution's efficacy under real-world conditions. AV-Comparatives, an independent body esteemed for its comprehensive cybersecurity evaluations, recently scrutinized a host of solutions under a rigorous lens through its Business Security Test spanning March through June, 2023. The results? Bitdefender GravityZone once again excelled in the tests performed.
Bitdefender Shines in Real-World Protection
AV-Comparatives' Real-World protection test simulates the varied malware attacks that businesses, including those adopting a hybrid workforce model, might face during their routine online operations. The test's scope of 526 attack samples reflects the complex threat landscape users are likely to encounter in hybrid work situations. To perform the test, AV-Comparatives analysts evaluated the vendor's ability to protect the systems during the different stages of the malware acquisition – accessing the URL, downloading the file, formation of the file on the local hard drive, and file access and execution. Each of these steps allows for evaluation of each of the vendor's security capabilities including the capacity to block malicious URLs, signature and heuristic threat detection, and overall propensity to prevent infection.
Standing resilient against these threats, Bitdefender GravityZone showcased its robustness by successfully blocking all 526 attack samples, thereby achieving a 100% protection rate. This exemplifies GravityZone's ability to provide seamless, comprehensive protection for hybrid workforces, surpassing the results of competitors such as Sophos, CrowdStrike, VMware, and Microsoft.
Even more revealing is an alarming fact that emerges when you dive into the details of the evaluation results. A mere 2% difference in protection rate can translate into a tenfold increase in compromised systems. When we translate percentages into real-world impact, it's clear that even a seemingly minor dip in protection rate can have drastic implications. For instance, a solution with a 98% protection rate might sound impressive – but in a world where threat actors can quickly expand any security incident – such a difference could potentially lead to a dramatic increase in the number of compromised systems. This reality underscores the absolute necessity for a solution like Bitdefender GravityZone, which consistently delivers 100% protection rate, minimizing risk and ensuring comprehensive protection against cyber threats.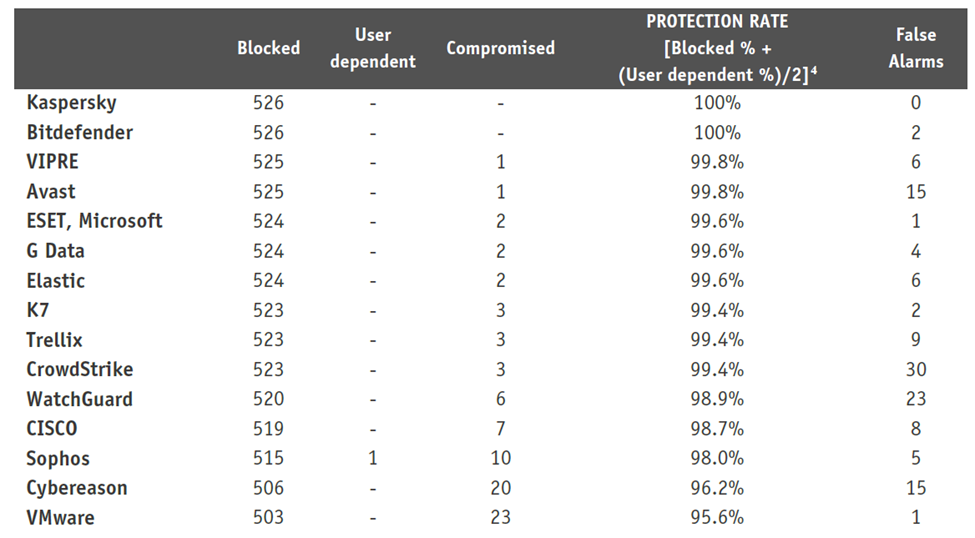 Figure 1: The AV-Comparatives Business Security Test results show Bitdefender GravityZone provides the best protection among all vendors evaluated with 100% protection rate.
Superior Protection with Fewer False Alarms
Beyond providing top protection, accurately distinguishing threats from legitimate software is as important as blocking the threats themselves. Some vendors try to boost their protection rate with extra-aggressive configurations, but this can backfire with dozens of false alarms, as reflected in the AV-Comparatives test results. False alarms, or the incorrect flagging of safe software as malware, can significantly burden security teams, helpdesks, and even end-users by creating false panic. They can lead to wasted resources, increased workload, and potentially disrupt security response protocols. Hampering security teams with chasing false alarms has been shown to actually increase threat dwell time which can facilitate devastating data exfiltration attacks. Bitdefender has demonstrated exceptional accuracy in threat identification during the AV-Comparatives testing, producing only 2 false alarms. This exceptional performance relieves security teams from unnecessary investigations and interruptions.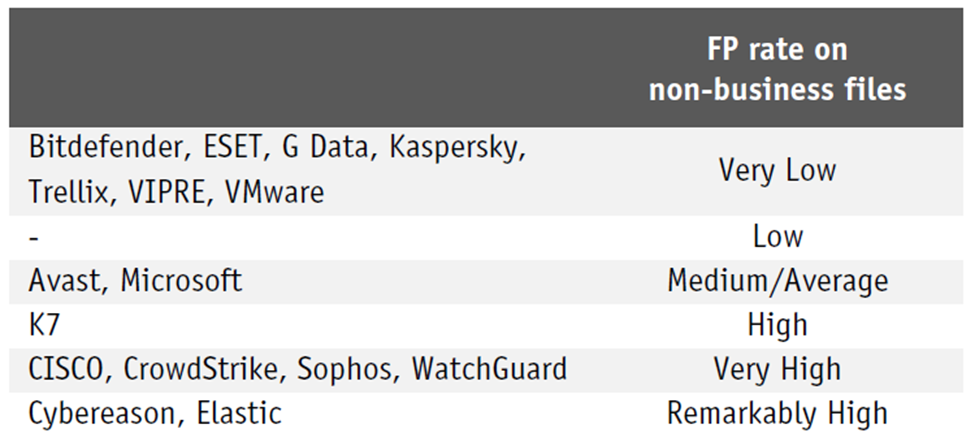 Figure 2: Bitdefender GravityZone scored among the lowest in false-positives.
Exceptional Performance with Minimal System Impact
Bitdefender's commitment to delivering top-tier security without hindering system performance is reflected in the AV-Comparatives performance test. This test measures the impact of cybersecurity products on various tasks such as file copying, archiving and unarchiving, application installation and launching, file downloading, website browsing, and benchmarking using PC Mark 10 Professional Suite.
Ensuring minimal impact on system performance is a fundamental aspect of an efficient cybersecurity solution, and affects total cost of ownership. Performance impact is not a negligible aspect of the security solution, as it impacts every single endpoint, server, or cloud workload – more performance impact means higher cloud compute costs. High-performance demands and productivity should not be compromised by protective measures.
Bitdefender GravityZone excelled in this crucial aspect by achieving among the lowest impact scores at 3.2. This low impact score allows businesses to maintain optimal operational performance while staying protected. Bitdefender GravityZone clearly distinguishes itself among all vendors evaluated with its perfect balance of protection to performance. It offers not just steadfast security, but also a commitment to never negatively impact your organization's productivity, or your return on security investment.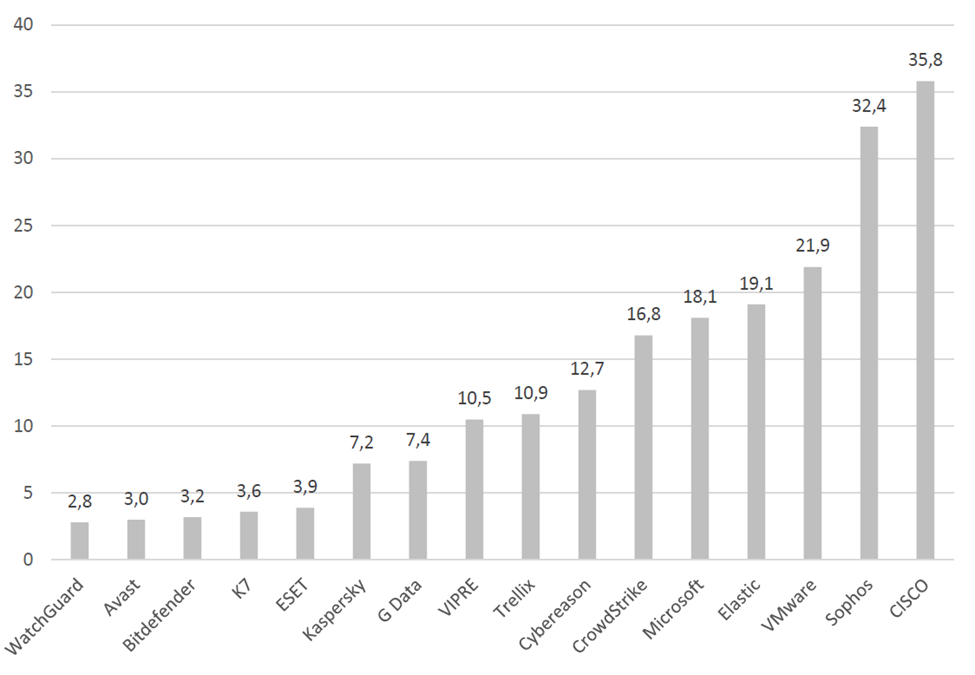 Figure 3: AV-Comparatives tests show Bitdefender GravityZone keeps systems protected without negatively impacting their performance.
Bitdefender GravityZone: The Clear Choice for Protecting Your Business
In the face of comprehensive, real-world testing by AV-Comparatives, Bitdefender once again emerged victorious. This isn't new for us. Whether it's providing some of the highest actionable detections in the MITRE ATT&CK® Evaluations, or stopping threats at the pre-execution stage more than any other vendor in AV-Comparatives Advanced Threat Protection tests, Bitdefender continues to deliver consistently exceptional performance in independent testing.
Bitdefender's sustained excellence is a testament to its unwavering commitment to advance in tandem with evolving cybersecurity threats. Our unique ability to deliver comprehensive, real-world protection, balanced with minimal false alarms and a negligible impact on system performance, truly sets us apart. We are committed to delivering the best-in-class cybersecurity solutions and services to organizations around the world.