Bitdefender
Sphere 2013
Product help and information wiki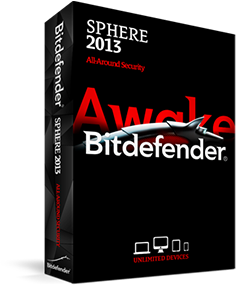 In order to manually remove an infected item from your computer you need to perform the following steps: 1. Restart the computer in Safe Mode. You can do that, by following ...
Read more
---
Here's how to use Bitdefender Rescue CD to quickly scan and disinfect an infected operating system that cannot start normally: 1. First, you need to boot the computer from ...
Read more
---
This article shows how to use Bitdefender Rescue CD to recover files from an infected system that fails to start To copy files on a removable device: 1. Start Bitdefender ...
Read more
---
Rogue security software designers create legitimate looking pop-up windows that advertise security update software. Such windows might appear on your screen while you surf the web. ...
Read more
---
CryptoLocker is a new sophisticated malware that was launched in the late 2013. It is designed to attack Windows operating system by encrypting all the files from the system using ...
Read more
---
In order to promptly resolve this issue, we kindly ask that you send us the malware file(s) as described below: NOTE: These files will be used for malware analysis only and ...
Read more
---
A PUA / PUP (potentially unwanted application / potentially unwanted program) is a software that may be unwanted on the PC and sometimes comes bundled with freeware software. You ...
Read more
---
First, please update Bitdefender to be sure you have the latest virus signatures:open the main interface using the Bitdefender icon from your desktop. At the Update panel, please ...
Read more
---
The FBI Ukash MonkeyPak Ransomware is a malware that locks you out of your computer and your applications until you pay a "ransom" of $100/$200 via MoneyPak/Ukash/PaySafeCard. This ...
Read more
---
Each time a scan is performed, a scan log is created and Bitdefender records the detected issues. The scan log contains detailed information about the logged scanning process, ...
Read more
---
Safepay is a secured browser designed for online banking. By default, Bitdefender detects when you navigate to an online banking site or online shop in any browser on your computer ...
Read more
---
We strive to reduce false-positive reports to a minimum. However, these reports are commonly due to bad programming practices (e.g. applications that change the Master Boot Record, ...
Read more
---
Bitdefender Rescue CD is a free tool that scans and cleans your computer whenever you suspect a malware threat is affecting its operation. Bitdefender Rescue CD works without ...
Read more
---
The Bitdefender scanning engine indicates the number of I/O errors within the Statistics section of the scan report. An I/O error is counted every time the scanning engine is denied ...
Read more
---
What is a cookie?At http://www.microsoft.com/info/cookies.mspx you can learn overview of what cookies represent: very small text files placed on the hard drive by a web server. ...
Read more
---