Security for Virtualized Environments by Bitdefender Support Tool
Security for Virtualized Environments by Bitdefender (SVE) is the first comprehensive security solution for virtualized datacenters. SVE protects not only Windows servers and end-user systems, but also Linux and Solaris systems. Integrated with VMware vShield and VMware vCenter, its unique architecture also allows it to defend systems running on any system virtualization technology.
SVE leverages a unique architecture that allows many scanning functions to be centralized. By centralizing these functions on a hardened, Linux-based, virtual appliance, the solution effectively deduplicates anti-malware load associated with updates, management, and scanning.
As organizations increase consolidation ratios, Bitdefender security that has been designed, from day one, to provide highly advanced, proactive, and reliable security in virtualized environments is a cornerstone of building and enhancing datacenter virtualization strategies.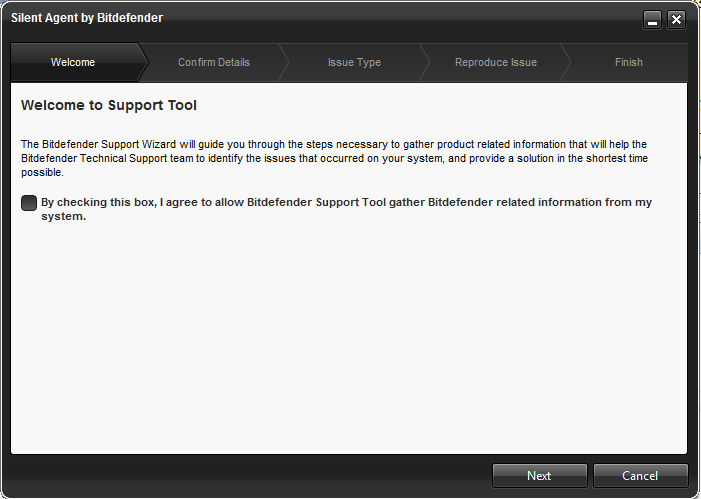 Bitdefender strives to provide its customers with an unparalleled level of fast and accurate support. If you experience any issue with our Bitdefender Business Solutions, we strongly recommend you to use the below guidelines in order to assure a fast resolution for your issues.
The troubleshooting process will be managed only by the network security administrator, using the below guidelines:
Download and save the Security for Virtualized Environments support tool suitable for your Windows platform:
Save the file to your target client, and run it; After Bitdefender Support Tool report was saved on your Current User Desktop, do not forget to attach this file to your support query;
Can't find a solution for your problem?
Open an email ticket
and we will answer the question or concern in the shortest time possible.