Manually updating Bitdefender for MS Exchange 2007 using cumulative.zip
Bitdefender Security for Exchange safeguards your organizations critical messaging services to protect against email-borne viruses, spyware and spam. Iintegrating seamlessly with Microsoft® Exchange Server, Bitdefender Security for Exchange combines malware protection, antispam, antiphishing, and content filtering technologies to increase productivity and ensure the overall integrity of your email platforms.

In order to manually update Bitdefender for Exchange you will be using cumulative.zip package as follows:
1.
Download
the update package cumulative.zip and save it locally on the computer when prompted
2. Stop the antivirus protection by opening the Bitdefender Exchange Console, click the Antivirus tab in the tree menu, clear the checkbox next to Enable real-time antivirus scanning and click Apply
3. Open the services snap-in by following the steps Start->Run-> (type) services.msc
4. Stop the Microsoft Exchange Transport Service
5. Stop the Microsoft Information Store Service
6. Stop the Bitdefender Antivirus Scanning Service. Right-click Bitdefender Antivirus Scanning Service and select Stop. The following services should also stop: Bitdefender Exchange Connector, Bitdefender Mail Scanning Service and Bitdefender File Scanning Service. If this does not happen, stop these services one by one
7. Copy the update files. Go to C:\Program Files\Bitdefender\Bitdefender for Windows Servers Services\Bitdefender Threat Scanner\ and locate the most recent Engines folder (the word "Engines" will be followed by date stamp in the folder name. Eg: Engines__2011_05_23_07_58_19\). Extract the content of the archive in the Plugins folder and accept overwriting existing files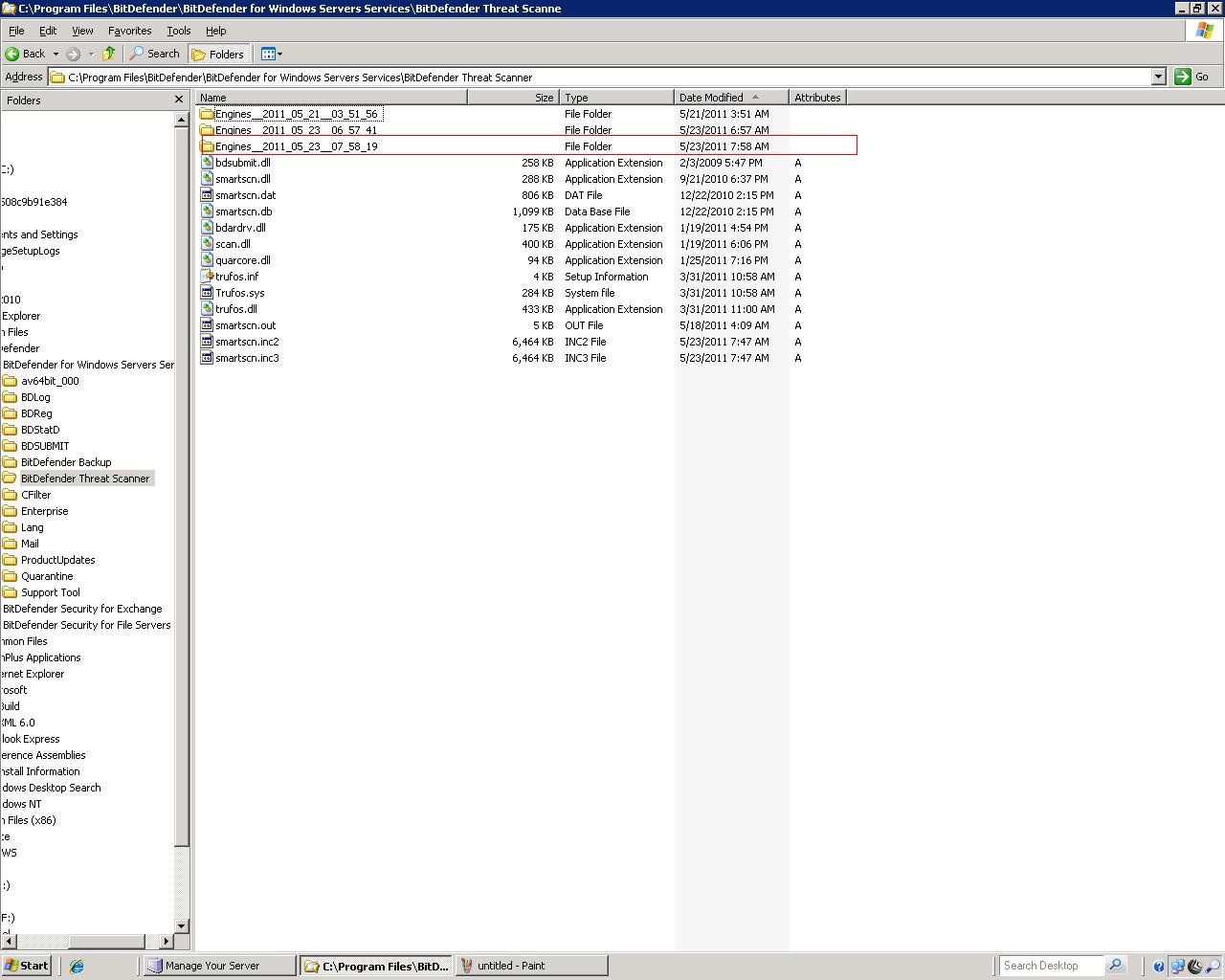 8. Start Bitdefender Exchange Connector. Right-click on the Bitdefender Exchange Connector and select Start. The following services should also start: Bitdefender Antivirus Scanning Service, Bitdefender Mail Scanning Service and Bitdefender File Scanning Service. If this does not happen, start these services one by one
9. Also, start the following services: Bitdefender Statistics Service, Bitdefender Scheduler Service, Bitdefender Update Service v2, Bitdefender NP Enterprise Manager Service, Bitdefender Management Agent Service (if present)
10. Start the Microsoft Information Store Service
11. Start the Microsoft Exchange Transport Service