How to configure Parental Control
Bitdefender Parental Control enables you to control the access to the Internet and to specific applications for each user holding a user account on the system. Once you have configured Bitdefender Parental Control, you can easily find out what your child is doing on the computer.
In order to have access to the Bitdefender Parental Control features, you need to install one of the new Bitdefender desktop products,Internet Security2015 orTotal Security 2015, on the computer that your children use.

In this article we are creating a Parental Control account for a 10-year-old child named Jack:
1. First, create a limited (standard) Windows user account for Jack. Information on how to create a new Windows account is available in this link:
http://www.bitdefender.com/support/how-do-i-create-windows-user-accounts-1003.html
2. Then log in with an administrator account. Only users with administrative rights on the system (system administrators) can access and configure Bitdefender Parental Control.
3. Turn ON Parental Control by following these steps:
a. Open the Bitdefender 2015 window.
b. Access the Privacy panel.
c. Under the Parental Control module, select Configure.
Make sure that you are logged in to your MyBitdefender account.
d. The Parental Control dashboard opens in a new web browser window. Here you can check and configure the Bitdefender Parental Control settings.
4. In the Parental Control window, click Add child on the left-side menu.

5. Enter the name and age of the child in the Profile tab. Setting Jack's age to 10 automatically loads settings considered appropriate for his age category.
6. Below you see the devices that are currently linked to your MyBitdefender account. Select the computer and the Windows account for your child. We chose the one for Jack.
7. Click Create Profile.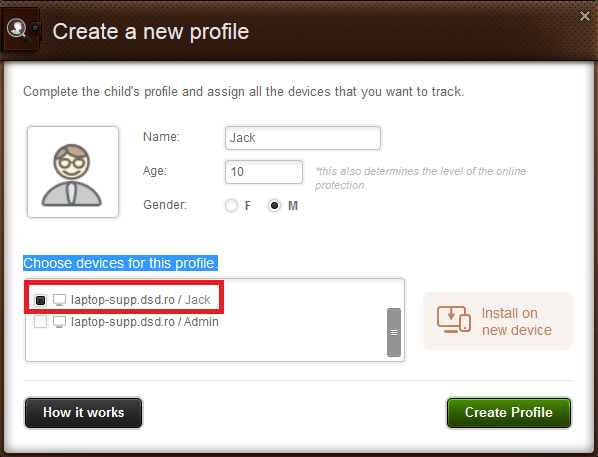 8. We continue by configuring Jack's account. For instance, you can block his access to Web content related to Online Games and Computer Games. For this:
go to the Web tab.
click the Web panel to access the Web Activity window.
click the Categories button.
you can check what web categories are automatically blocked / restricted for the currently selected age group. Check Online Games and Computer Games and click Save. If you change your mind, click the Reset button to use default level of protection based on Jack's age.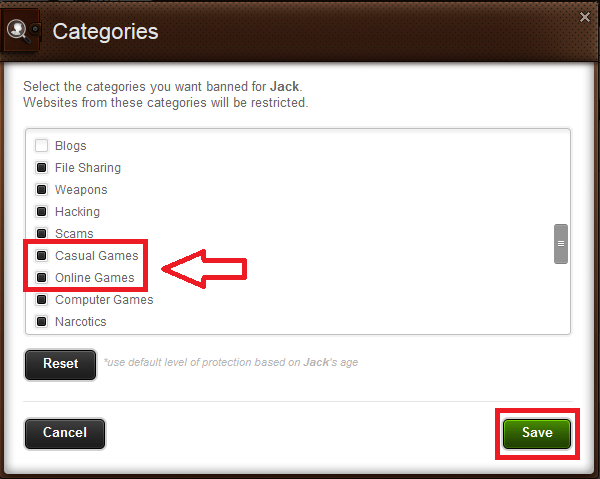 9. At this step we can prevent him from accessing the Internet every weekday, from 10 AM to 5 PM:
on the Web Activity window click the Schedule button.
select from the grid the time intervals during which Internet access is blocked.
click Save.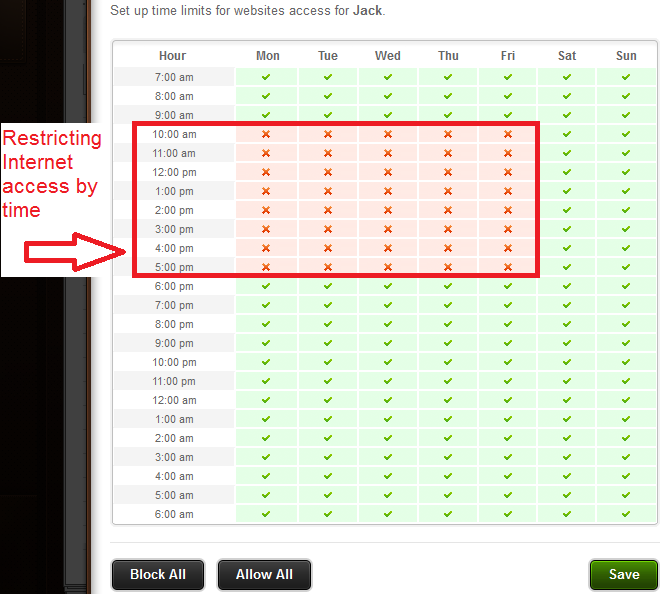 10. Finally, we can choose "porn" as a keyword for Jack's webpage access. The Keywords button allows you to prevent children from viewing a website, sending an e-mail or instant message that contains certain keywords or phrases. You can also prevent certain keywords or phrases from being transmitted by Jack (for instance, your home address or other personal data). To do this, follow these steps:
click the Keywords button.
enter the keyword porn in the corresponding field.
click Block to add the word to the list of banned keywords and OK to save the changes. If you change your mind, click the corresponding Remove button.