How to add application exclusions in Cloud Security for Endpoints by Bitdefender
Cloud Security for Endpoints by Bitdefender protects systems using security technology that has been rated number one time and time again. It does not require on-site server hardware and maintenance as it is managed by Cloud Security Console, a powerful and intuitive interface to a solution that can scale to defend any number of systems, no matter where they are located.
This article describes how how to add exclusions in Cloud Security for Endpoints by Bitdefender.
The antimalware module of Cloud Security for Endpoints by Bitdefender provides real-time scanning of all the running processes and applications on the machine it protects. However, the real-time scanning might prevent certain applications from running correctly when they are scanned.
To prevent Endpoint Client from blocking certain applications, you need to two process exclusions for those applications, one for the On-access module and one for the AVC/IDS module.
To enable process exclusions in Cloud Security for Endpoints, follow the steps below:
Log in to the Cloud Security Console
Go to Policies > New Policy if you want to send a new policy or Policies > View Policies to edit an existing policy
In the Antimalware category, click on the Exclusions tab and click the Activate Exclusions switch if the exclusions table is greyed out
Choose Process from the Type menu
In the Excluded files, folders, extensions or processes, select Specific paths and type in the empty field the full path to the application you want to exclude from scanning
Choose On-access from the Modules menu and click the Add button to add the application to the exclusions list
Repeat steps 4 to 6, but select AVC/IDS from the Modules menu
Click Save to send the policy to the selected machines
Reboot the target machines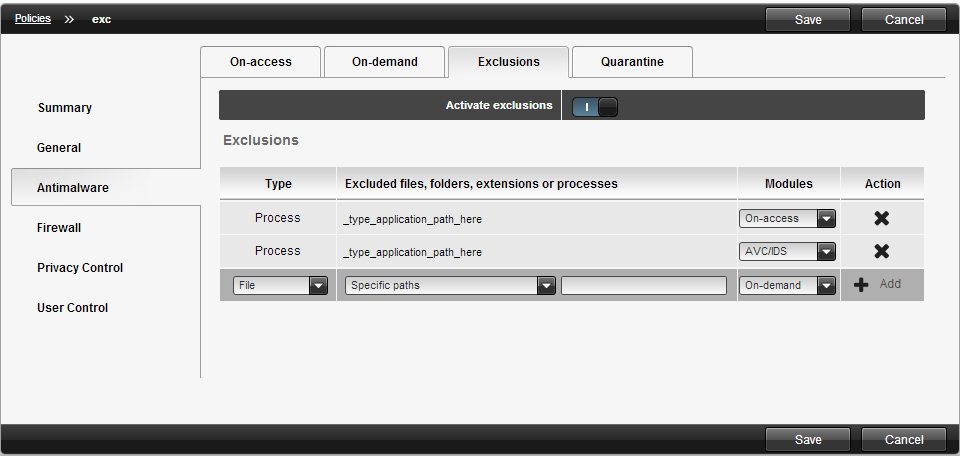 Should you need any further assistance, don't hesitate to contact Bitdefender's Enterprise Support Team.