How to add application or process exclusions in Bitdefender Control Center
This article describes how to add application or process exclusions in Bitdefender Control Center.
The antimalware module of Bitdefender Control Center provides real-time scanning of all the running processes and applications on the machine it protects. However, the real-time scanning might prevent certain applications from running correctly when they are scanned.
To prevent the Endpoint Security client from blocking certain applications, you need two process exclusions for those applications, one for the On-access module and one for the AVC/IDS module.
To enable process exclusions in Bitdefender Control Center, follow the steps below:
Log in to Bitdefender Control Center.
Go to Policies page.
Click the Add button at the right side of the page to create a new policy.
Go to Antimalware > Exclusions tab.
Select Activate Exclusions.
Choose Process from the Type menu.
In the Files, folders, extensions or processes column, type the full path to the application you want to exclude from scanning.
Choose On-access from the Modules menu and click the Add button to add the application to the exclusions list.
Repeat steps 4 to 8, but select AVC/IDS from the Modules menu.
Click Save to send the policy to the target machines.
Reboot the target machines.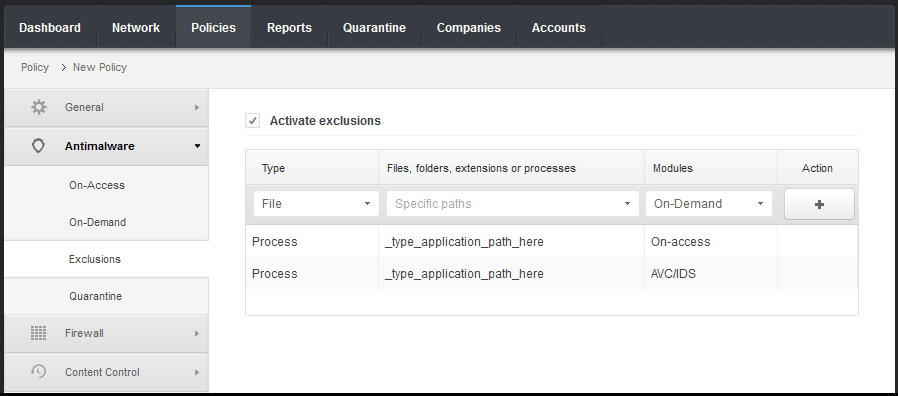 Should you need any further assistance, do not hesitate to contact Bitdefender's Enterprise Support Team.
Can't find a solution for your problem?
Open an email ticket
and we will answer the question or concern in the shortest time possible.