Generating Endpoint Security Support Tool log
Bitdefender GravityZone provides full visibility into organizations' overall security posture, global security threats, and control over its security services that protect virtual or physical desktops, servers and mobile devices. All Bitdefender's Enterprise Security solutions are managed within the GravityZone through a single console, Control Center, that provides control, reporting, and alerting services for various roles within the organization.
This article is meant to help you provide the Bitdefender Enterprise Support Team essential troubleshooting information in case Endpoint Security is not functioning properly in your environment.
Endpoint Security manages protection on the local computer. It also communicates with Control Center to receive the administrator's commands and to send the results of its actions.
If Endpoint Security is not functioning properly, the Bitdefender Enterprise Support Team will require detailed technical information about the affected computers.
To help you provide this information, Bitdefender GravityZone includes a dedicated troubleshooting tool, Endpoint Security Support Tool, accessible from the Control Center.
To generate the Endpoint Security Support Tool log:
Log in to the Control Center web console
Click the Help&Support link in the lower right corner
At the bottom of the Support section, click on the link corresponding to the architecture of the affected system. Depending on your browser settings, the Support Tool could be downloaded to a default location on your computer
Run the Support Tool and wait until it collects all the needed troubleshooting information about your computer. When it finishes, a ZIP archive will be generated on your computer's desktop, containing the necessary troubleshooting information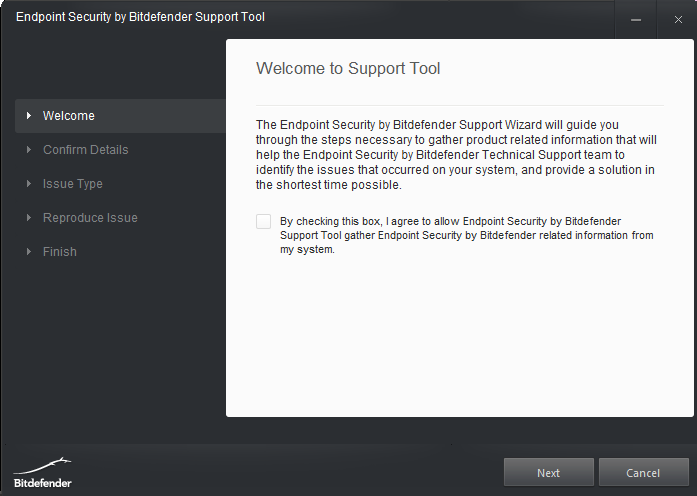 If you cannot access Control Center, you can download the Endpoint Security Support Tool from the corresponding links below:
Can't find a solution for your problem?
Open an email ticket
and we will answer the question or concern in the shortest time possible.