Bitdefender
Antivirus Plus (2014)
Product help and information wiki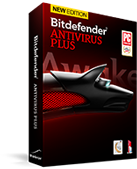 If theOn-access scanning (Real Tine Protection) of Bitdefender is disabled, the program will notify you. If you get this notification, please follow the steps bellow ...
Read more
---
When using Safepay some applications mighttry to switch, without any consent, to the regular Desktop. For this reason these applications are considered to be conflicting with ...
Read more
---
In some cases, one might encounter difficulties when trying to install Bitdefender on a computer that is also running the ASUS AI Suite software (the computer might freeze or a BSOD ...
Read more
---
In some rare cases when you install Bitdefender on Windows Vista/ Windows 7 computers or when trying to open Safepay, your computer might encounter a BSOD (blue screen). What ...
Read more
---
You have saved your online credentials in Bitdefender Wallet and you noticed that the autofill is not working. Usually, this issue appears when the Bitdefender Wallet extension is ...
Read more
---
In very rare cases, you might encouter situations when Bitdefender doesn't run perfectly flawless. In order to troubleshoot and solve any issues that may appear with Bitdefender ...
Read more
---
Bitdefender is by default set to Autopilot for completely silent security. While on Autopilot, Bitdefender makes all security related decisions for you and you don't have to ...
Read more
---
This article helps you troubleshoot the Bitdefender Services are not responding error. You may encounter this error as follows: The Bitdefender icon in the system tray is ...
Read more
---