Bitdefender
Antivirus for Mac
Product help and information wiki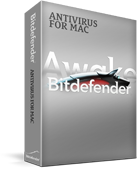 We have gathered all our products in the Bitdefender toolbox. It's right here: http://www.bitdefender.com/Downloads/ If you have a Bitdefender license key, just download ...
Read more
---
Being a complex application, Bitdefender Antivirus for Mac cannot be removed in the normal way, by dragging the application icon from the Applications folder to the Trash. To ...
Read more
---
You can scan your Mac or specific files anytime you want. The easiest way to scan a file, a folder or a volume is to drag&drop it over the Bitdefender Antivirus for Mac ...
Read more
---
A. Downloading the .dmg package The Bitdefender Antivirus for Mac package provides Install and Uninstall functionality as well as a Product Manual. 1. Use the following ...
Read more
---
You may install Bitdefender Antivirus for Mac only on Intel-based Macintosh computers with Mac OS X version 10.7 or later installed. Your Mac must also meet all of these additional ...
Read more
---
Uninstalling other Security Programs using the system tools [Windows XP] The Antivirus that is currently installed on your computer can be uninstalled similar to any other software ...
Read more
---
To uninstall other security solutions from your MAC you can try one of the following: 1) Locate and mount the .dmg you used to install the product Open the mounted drive ...
Read more
---