Bitdefender
Antivirus for Mac and PC
Product help and information wiki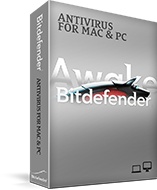 Here are the steps to install Bitdefender 2015 on your computer: 1. Use our uninstall tool in order to uninstall/delete any previous Bitdefender related files: http://www.bitdefender.com/files/KnowledgeBase/file/The_New_Bitdefender_UninstallTool.exe 2. ...
Read more
---
A. Remove the previous Bitdefender product installed on your system. In order to do that, please follow the steps from our article, here. B. Downloading the .dmg package The ...
Read more
---
You may install Bitdefender Antivirus for Mac only on Intel-based Macintosh computers with OS X Lion (10.7.5), OS X Mountain Lion (10.8.5), OS X Mavericks (10.9.5) or OS X Yosemite ...
Read more
---