Bitdefender
Antivirus for Mac and PC
Product help and information wiki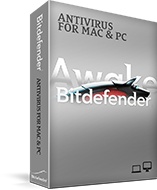 Here are the steps to install Bitdefender 2015 on your computer: 1. Use our uninstall tool in order to uninstall/delete any previous Bitdefender related files: http://www.bitdefender.com/files/KnowledgeBase/file/The_New_Bitdefender_UninstallTool.exe 2. ...
Read more
---
We have gathered all our products in the Bitdefender toolbox. It's right here: http://www.bitdefender.com/Downloads/ If you have a Bitdefender license key, just download ...
Read more
---
Use the Apple recommended method for uninstalling an application: Hold down the app's icon in Launchpad until all the icons start to jiggle, and then click the ...
Read more
---
A. Downloading the .dmg package The Bitdefender Antivirus for Mac package provides Install and Uninstall functionality as well as a Product Manual. 1. Use the following ...
Read more
---
You may install Bitdefender Antivirus for Mac only on Intel-based Macintosh computers with OS X Lion (10.7.5), OS X Mountain Lion (10.8.5), OS X Mavericks (10.9.5) or OS X Yosemite ...
Read more
---