How to configure Bitdefender Update Pushing
Bitdefender Security for Exchange safeguards your organizations critical messaging services to protect against email-borne viruses, spyware and spam. Integrating seamlessly with Microsoft® Exchange Server, Bitdefender Security for Exchange combines malware protection, antispam, antiphishing, and content filtering technologies to increase productivity and ensure the overall integrity of your email platforms.
The window of vulnerability is defined as the period of time between the moment when new viruses start propagating and the moment when the antivirus signatures are installed on your server. This is the period when your server, and through it your entire company, is at risk to get infected. The sooner the antivirus signatures get to the server, the smaller the window of vulnerability.
Based on a tested and secure implementation, Bitdefender Update Pushing assures that the antivirus engines and signatures are installed on your server as soon as they are available from the Bitdefender Lab. Working on a 24/7 hours basis, Bitdefender Lab releases new updates every hour. From these updates, based on the level of spreading, Bitdefender specialists select the Bitdefender Critical Updates which are pushed through Update Pushing to Bitdefender products installed all over the world.
The decrease of administrator's workload is obvious as Bitdefender Update Pushing replaces the procedure that is usually implemented in case of virus outbreaks, by automating the process of updating the products as soon as possible.
This service is available to registered license owners only and is included in all these Bitdefender products for Mail Servers:

● Bitdefender Security for Exchange
● Bitdefender Security for Mail Servers
We strongly recommend registering for and configuring Bitdefender Update Pushing.
These are the steps required to configure Bitdefender Update Pushing:
1. After the product installation process is over, please register the product.
2. Configure the update module. Enter the Update section. If you are using a proxy, check Use Proxy and type the settings in the appropriate textbox.

3. Configure the update interval (the default interval is 1 hour) for the automatic update feature.
4. Press the Configure Update Pushing button. A webpage will be displayed in which you have to provide a valid local mail address (a working internet connection is required in order to configure the update pushing).


5. The mail address that you submit must be local (that is, the mailbox should be on the mail server for which you want to configure the update pushing (is advisable to use the administrator address or the postmaster mail address). We recommend applying the same procedure for all mail servers protected by Bitdefender that you have installed in your company.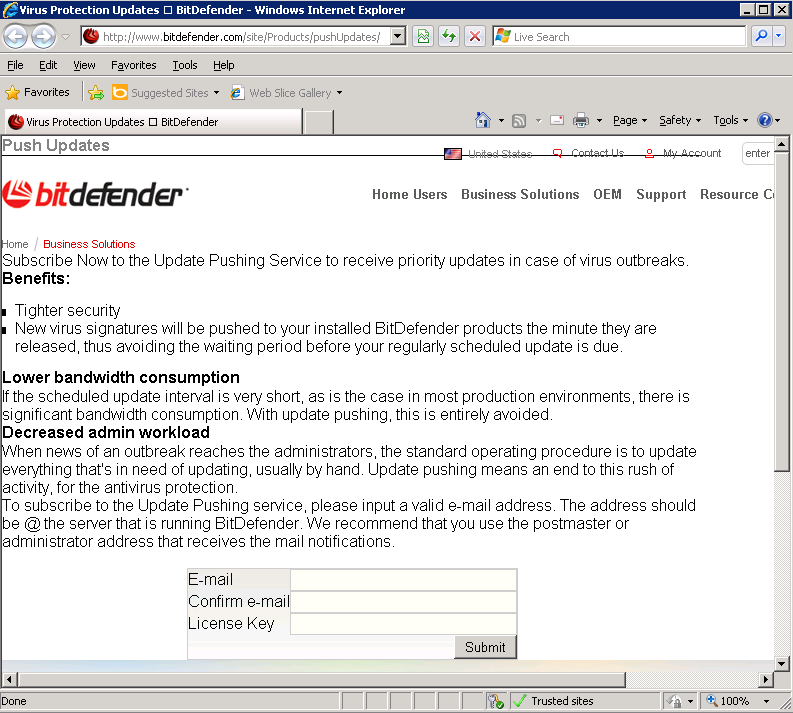 6. A confirmation mail will be sent to the mail address you provided above. Follow the instructions within to confirm your subscription to Bitdefender Update Pushing. Update Pushing will not be activated unless the subscription is confirmed.
7. Click Update now in order to update the Bitdefender Antispam & Antivirus engines.