Bitdefender
Internet Security (2014)
Product help and information wiki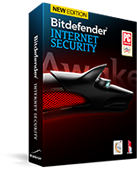 When going online, if you get pop-ups on the pages you browse, you probably got on your computer some intrusive applications/toolbars. The same thing applies if your homepage got ...
Read more
---
In order to manually remove an infected item from your computer you need to perform the following steps: 1. Restart the computer in Safe Mode. You can do that, by following ...
Read more
---
If an infected file is detected, Bitdefender will automatically attempt to disinfect it. If disinfection fails, the file is moved to quarantine in order to contain the infection. For ...
Read more
---
Here's how to use Bitdefender Rescue CD to quickly scan and disinfect an infected operating system that cannot start normally: 1. First, you need to boot the computer from ...
Read more
---
Rogue security software designers create legitimate looking pop-up windows that advertise security update software. Such windows might appear on your screen while you surf the web. ...
Read more
---
---
If you have purchased a license key for more than one computer, you can use the same license key to register a second PC. To install Bitdefender correctly on a second computer, ...
Read more
---
Installing the latest version of your Bitdefender product is an important step to ensure that your computers are protected by Bitdefender. Important: If you ...
Read more
---
   If you want to remove your Bitdefender product, follow these steps:     In Windows XP:         Click Start, go to Control Panel and double-click ...
Read more
---
If you want to repair your Bitdefender product from the Windows start menu, follow these steps: In Windows XP, Windows Vista and Windows 7: Click ...
Read more
---
You can easily switch from one Bitdefender product to another. The three Bitdefender products you can install on your system are: Bitdefender Antivirus Plus ...
Read more
---
---
If you want to remove an existent child profile, follow these steps: On any device with Internet access, open a web browser. Go to: https://my.bitdefender.com. Log ...
Read more
---
To make sure that your Bitdefender product is properly running, we recommend you using the Eicar test. The Eicar test allows you to check your antivirus protection using ...
Read more
---
The easiest way to scan a file or folder is to right-click the object you want to scan, point to Bitdefender and select Scan with Bitdefender from the menu. To complete ...
Read more
---
This article shows how to use Bitdefender Rescue CD to recover files from an infected system that fails to start To copy files on a removable device: 1. Start Bitdefender ...
Read more
---
By default, Bitdefender detects when you navigate to an online banking site or online shop in any browser on your computer and prompts you to launch it in Bitdefender Safepay. In ...
Read more
---
---
When using Safepay some applications mighttry to switch, without any consent, to the regular Desktop. For this reason these applications are considered to be conflicting with ...
Read more
---
In some cases, one might encounter difficulties when trying to install Bitdefender on a computer that is also running the ASUS AI Suite software (the computer might freeze or a BSOD ...
Read more
---
In some rare cases, your computer might encouter a BSOD (blue screen) when trying to open SafePay. In order to solve this situation, please install the following Microsoft hotfix. ...
Read more
---
This situation may appear after you install Bitdefender. The issue could be caused by errors in the Bitdefender firewall configuration. To troubleshoot this situation, follow ...
Read more
---
Depending on the network you are connected to, the Bitdefender firewall may block the connection between your system and another device (such as another computer or a printer). As ...
Read more
---
---
Bitdefender provides proactive protection from e-threats, such as viruses, spyware, hackers and phishing attacks. It also secures your online transactions and home banking applicationswith ...
Read more
---
We inform you that your current registration license for any Bitdefender previous version is compatible with Bitdefender for the remainder of your licensing period. You are ...
Read more
---
When your Bitdefender protection is about to expire, you must renew your license key. Follow these steps to visit a website where you can renew your Bitdefender license key: Open ...
Read more
---
WHAT IS AUTO-RENEWAL? Auto-renewal allows you to enjoy the benefits of continuous security for your PC, without the hassle of renewing every time your license expires. With your ...
Read more
---
Bitdefender offers a 30-day money back guarantee! If you are not completely satisfied with your purchase, you have 30 days from the date of purchase (not install) to request ...
Read more
---
To successfully use another account, follow these steps: 1. Open the Bitdefender window. 2. Click MyBitdefender at the top of the window and then select Account settings ...
Read more
---
You have created a MyBitdefender account using an e-mail address you no longer use and now you would like to change it. The e-mail address cannot be changed, but you can use ...
Read more
---
To find out the remaining number of days from your license key, follow these steps: Open the Bitdefender window. A link that indicates the number ...
Read more
---
If you have installed a trial version, you may only use it for a limited period of time. To continue using Bitdefender after the trial period expires, you must register ...
Read more
---
Bitdefender PC Lifetime Edition provides comprehensive protection against viruses, spyware, hackers, and other common threats that can lead to identity theft, loss of personal data ...
Read more
---