Bitdefender
Sphere 2013
Product help and information wiki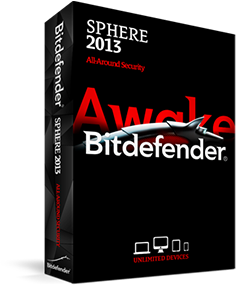 If you have purchased a license key for more than one computer, you can use the same license key to register a second PC. To install Bitdefender correctly on a second computer, ...
Read more
---
We have gathered all our products in the Bitdefender toolbox. It's right here: http://www.bitdefender.com/Downloads/ If you have a Bitdefender license key, just download ...
Read more
---
For a better viewing experience, please change the video settings. Bitdefender installation is straight forward (only 3 steps and it's on your computer) You can ...
Read more
---
To remove Bitdefender Antivirus for Mac, follow these steps: 1. Download the uninstaller from this location. 2. Double-click on the uninstaller (the file you've ...
Read more
---
A. Remove the previous Bitdefender product installed on your system. In order to do that, please follow the steps from our article, here. B. Downloading the .dmg package The ...
Read more
---
---
In order to manually remove an infected item from your computer you need to perform the following steps: 1. Restart the computer in Safe Mode. You can do that, by following ...
Read more
---
Here's how to use Bitdefender Rescue CD to quickly scan and disinfect an infected operating system that cannot start normally: 1. First, you need to boot the computer from ...
Read more
---
This article shows how to use Bitdefender Rescue CD to recover files from an infected system that fails to start To copy files on a removable device: 1. Start Bitdefender ...
Read more
---
Rogue security software designers create legitimate looking pop-up windows that advertise security update software. Such windows might appear on your screen while you surf the web. ...
Read more
---
CryptoLocker is a new sophisticated malware that was launched in the late 2013. It is designed to attack Windows operating system by encrypting all the files from the system using ...
Read more
---
---
To make sure that your Bitdefender product is properly running, we recommend you using the Eicar test. The Eicar test allows you to check your antivirus protection using ...
Read more
---
The easiest way to scan a file or folder is to right-click the object you want to scan, point to Bitdefender and select Scan with Bitdefender from the menu. To complete ...
Read more
---
10.7 Lion Without Growl - open the application's Preferences and under the "General" tab, disable the "Enable notifications"option With ...
Read more
---
Bitdefender Classic Line products: Bitdefender Antivirus Plus, Bitdefender Internet Security, Bitdefender Total Security Bitdefender2015 can be installed on: Windows ...
Read more
---
Bitdefender Anti-Theft allows you not only to locate and lock the stolen laptop, but also wipe all data to ensure that it will not be used by the thief. To access the Anti-Theft ...
Read more
---
---
In some cases, one might encounter difficulties when trying to install Bitdefender on a computer that is also running the ASUS AI Suite software (the computer might freeze or a BSOD ...
Read more
---
In some rare cases when you install Bitdefender on Windows Vista/ Windows 7 computers or when trying to open Safepay, your computer might encounter a BSOD (blue screen). What ...
Read more
---
You have created a MyBitdefender account using an e-mail address you no longer use and now you would like to change it. The e-mail address cannot be changed, but you can use ...
Read more
---
If you have installed a trial version, you may only use it for a limited period of time. To continue using Bitdefender after the trial period expires, you must register ...
Read more
---