US Military Actions Used as Decoy to Spread Malware
July 2008
---
BitDefender researchers have identified a new wave of spam messages announcing an alleged attack of the US Army against Iran in order to trick the user into downloading and installing malicious software on their personal computers.
The webpage hosting the piece of malware √ dailydotnews.com - is simply yet efficiently designed, with a top banner, a simple picture masquerading an YouTube player and three lines of text detailing on US▓ operation in Iran. This approach has been used on large scale later, as the spammer relies on a catchy heading and a link to the piece of malware in order to fuel users▓ curiosity and trick them into downloading the piece of malware.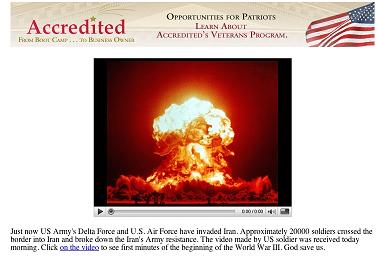 └The new spam wave relies on computer users▓ curiosity regarding the conflict between the United States and Iran. They are apparently redirected to a fake news website, where they are shown a larger, inciting description that accompanies a movie player,■ said Bitdefender Antispam analyst Andra Miloiu. └However, the alleged flash movie is an image depicting a movie player; when clicked, the image would reveal users the Save image as... option,■ she continued.

Upon clicking on either the └movie■ or the top banner, the user would start the download process of a binary piece of malware, called ⌠iran_occupation.exe■. The file contains the same malicious code used to infect the user with the Storm Worm. The authors have taken advantage of the perfect timing, as the recent tensions in the Middle East between the US and Iran are escalating.

On the social side, the spam wave is targeting the increasingly worried US citizens looking for fresh news on Iran threatening to burn Tel Aviv down in response to possible US attacks on its nuclear facilities.

The BitDefender antivirus is currently filtering and detecting both the spam message and the malicious code the └iran_occupation.exe■ binary is infected with (Trojan.Peed.PM). In order to enjoy a safe and pleasant experience while surfing the web, Bitdefender recommends that you install a complete anti-malware protection solution.