How to install BitDefender Security for Windows Servers
Aiming to constantly improve the products' usability and to come closer to what the customers need, BitDefender now provides all security solutions for Windows servers using an unique
installation kit
(starting with version 2.4). The following BitDefender security solutions can be installed either separately or in various combinations (depending on the server distribution):
After the download (save on disk) process completes you can launch the installation process; the third step of the installation wizard contains the list of security solutions (as shown in the screenshot below).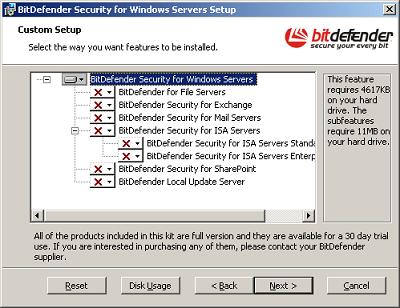 At this step you need to make sure that you install the needed security solutions ONLY -
depending on what BitDefender package you have purchased and what servers run on the respective platform
(for example: on a server running Microsoft Exchange Server and other applications that need shared folders for various purposes you need to choose both BitDefender Security for File Servers and BitDefender Security for Exchange - this example can be extended to every possible combination of server roles).
Another feature present in this unique installation kit is the local update server. Its main purpose is to save bandwidth when referring to BitDefender updates: the update server downloads the BitDefender updates into a central location and then supplies them to the BitDefender servers using the proprietary HTTP server. You can install and use this component only if you do not use BitDefender Enterprise Manager (that also includes an update server) in the same network area.
IMPORTANT: once you install a certain products combination you cannot add or remove one of the installed products. In such cases you need to uninstall all BitDefender products and run a new installation process in which to choose all the needed modules.