Install... And go back to running your business
Bitdefender Small Business Pack is the best solution for small offices with 5 or 10 computers because:
It's easy to install
No complex management rules designed with larger businesses in mind

more

If you have more than 10 or 15 computers, take a look at our centrally managed solutions Related:Cloud Security for Endpoints / Client Security

Covers PCs, Macs, Android tablets and phones with just one license

more

If you are interested in covering PCs with centralized management, check out our hosted solution. Related:Cloud Security for Endpoints
The Small Business Pack is designed with small companies in mind. You don't need the IT guy to set it up. Just download the software and install it on the computers you want to protect.
We think we like to focus on your business and not spend time on monitoring your security software, reading reports or come up with security policy rules to enforce. That's why you do not have a management console built in. If you want a solution with centralized management check out our Cloud Security product.
PCs or Macs, we cover both and you can use the license we give you on all of them. As an extra, if you have Android tablets or phones, you're covered as Bitdefender Small Business Pack protects these devices too.
Not just any security. Silent Security!

How effective can an anti-malware product be if you have to be a rocket scientist to properly use it? Bitdefender Autopilot quietly makes all the security-related decisions for you - allowing you to enjoy your PC without interruptions or slowdowns.

Bank online with complete confidence!

Never worry about hackers stealing your account information again! Bitdefender Safepay™ automatically opens all your e-banking and e-shopping pages in a separate iron-clad, secure browser.

Keep control of your lost or stolen mobile devices

How would it be for your security software to protect you from more than just online threats? Bitdefender Anti-Theft gives you a head start in locating, locking or wiping your lost or stolen laptops or netbooks.
USB Immunizer

Immunizes any Flash Drive from viruses, when they are connected to your computer, so that you never worry again about USBs infecting you or your friends.

Active Virus Control

A proactive, dynamic detection technology which monitors processes' behavior in real-time, as they are running, and tags suspicious activities.

Two-way Firewall

Continuously monitors your Internet connections and prevents unauthorized access, even over a Wi-Fi network.

Antispam

Stops unwanted e-mail from reaching your Inbox.

Device Anti-Theft

Locks, wipes or even locates your laptop from any Internet-connected device you have at hand.

Data Filter

Prevents critical data (such as anything even resembling your social security number) from ever leaving your computer.

Antiphising

Analyzes and blocks websites that support various scams or credit card phishing attempts.

Scan Dispatcher

The Scan Dispatcher finds and uses time-slices when system resource usage falls below a certain threshold to perform recurring scans of your entire system. This way Bitdefender does not interfere with user-initiated actions and does not impact system responsiveness.
+ Load More Features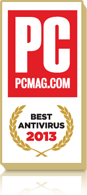 "Bitdefender is riding high this season"
January 2013 | PC MAG Bitdefender Antivirus Plus 2013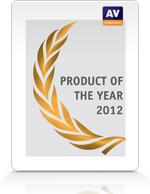 "Bitdefender software is powerful stuff. It clearly deserves this award."
January 2013 | AV-Comparatives Bitdefender 2013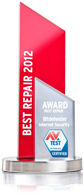 "When your computer is infected, Bitdefender is the one to go to."
Best Repair | AV-Test
January 2013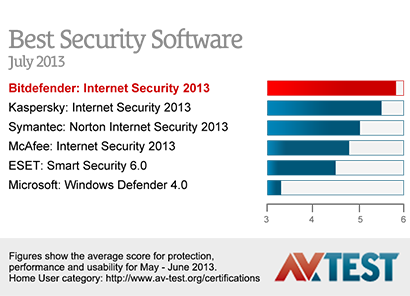 Product of the Year. Proven #1 Antivirus.
Officially Top Choice For 2012 & 2013!
Bitdefender is the winner of the "Product of the Year" award from AV-Comparatives, as well as of that of "Best Repair for 2012" from AV-Test, an unmatched achievement.
PC MAG's Best Antivirus for 2013
Bitdefender also been acknowledged as the Best Antivirus for 2013 by PC MAG, and also selected "Editor's Choice" by famous world-wide publications such as CNET, PC Welt, Micro Actuel, Expert Reviews, and many others.
For PC
Minimal system requirements:

Operating system: Microsoft Windows XP SP3 (32 bit), Vista (SP2), Microsoft Windows 7 (SP1), Microsoft Windows 8;
CPU: 800MHz processor;
Memory (RAM): 1GB; Available free hard disk space: 1.8 GB free space (at least 800 MB on the system drive)

Recommended system requirements:

Operating system: Microsoft Windows XP SP3 (32 bit), Vista (SP2), Microsoft Windows 7 (SP1), Microsoft Windows 8;
CPU: Intel CORE Duo (1.66 GHz) or equivalent processor;
Memory (RAM):

1 GB (Microsoft Windows XP)

,

1.5 GB (Microsoft Windows Vista, Microsoft Windows 7 and Microsoft Windows 8)

; Available free hard disk space: 2.8 GB free space (at least 800 MB on system drive)

Software requirements:

Internet Explorer 7 and higher; .NET Framework 3.5 (automatically installed by Bitdefender if necessary)

Supports/Integrates with:

Firefox 3.6 and higher; Thunderbird 3.0.4; Outlook 2007, 2010; Outlook Express and Windows Mail on x86
For smartphones & tablets
Minimal system requirements:

Android 2.2 or later
An active Internet connection

Software requirements:

Default Android browser
For Macs
Intel-based Macintosh running the one of following operating systems:

Mac OS X Leopard (10.5 or later)
Mac OS X Snow Leopard (10.6 or later)
Mac OS X Lion (10.7 or later)
Mac OS X Mountain Lion (10.8 or later)

Minimal system requirements:

1 GB of RAM Memory
Minimal normal (4:3) display resolution: 1024 x 768
Minimal wide display resolution: 1024 x 640
300 MB available hard disk space
An internet connection is required to register and update Bitdefender Antivirus for Mac

Antiphishing protection is available with:

Safari 5.0.1 (or higher)
Firefox 3.5 (or higher)
+ System Requirements
- Close System Requirements