Symptoms
Presence of the following files:
%ProgramFiles%\VVSN\VVSN.exe
%ProgramFiles%\VVSN\VVSN.cfg
Removal instructions:
Please let BitDefender disinfect your files.
Analyzed By
Sorin Ciorceri, virus researcher
Technical Description:
Adware.Whenu.Savenow.E is an adware program that downloads and displays advertisements.
It can be manualy installed or comes as a component of another program, in that case user will be prompted and he can accept or not the SaveNow License Agreement.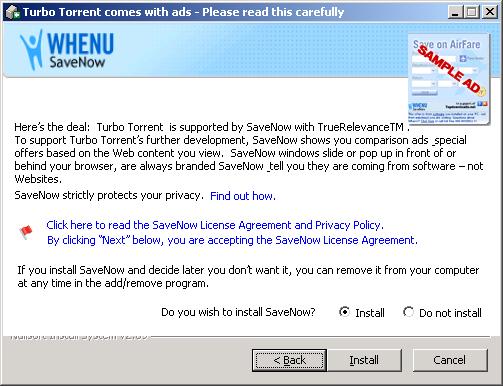 Than it creates the following files:
%ProgramFiles%\VVSN\VVSN.exe
%ProgramFiles%\VVSN\VVSN.cfg

and the following registry entry: